The Hispanic Resource Center/Nuestra Biblioteca is located on the second floor of the Rawlings Main Library. It has fiction and non-fiction books, biographies, DVD's, CD's, Magazines, Newspapers, and Audio books in both Spanish and English relating to the Hispanic community, its culture and history.
This part of the library also has information on employment, health matters, ESL, GED and Citizenship classes plus a bulletin board with current events, and workshops. We have two exhibit cases that show thematic art and artifacts about Hispanic holidays and events plus a revolving art exhibit showcasing art by local artists.
In this area, there are also two computers with Spanish keyboards. We have a database called BYKI which has 80 languages you can learn. There are bilingual librarians to assist you to find what you need. You may navigate through this site and find out more about our programs and services, events and other helpful links by clicking on the appropriate topics at the top of this page.
On third floor we have Hispanic Genealogy Resources as part of the Western Research Room. For more information, please visit the Hispanic Genealogy Resources page.
Para Español haga click en Nuestra Biblioteca en la parte de la pagina que esta arriba.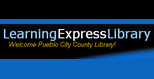 Recursos Para Hispanolhablantes 
From Learning Express.